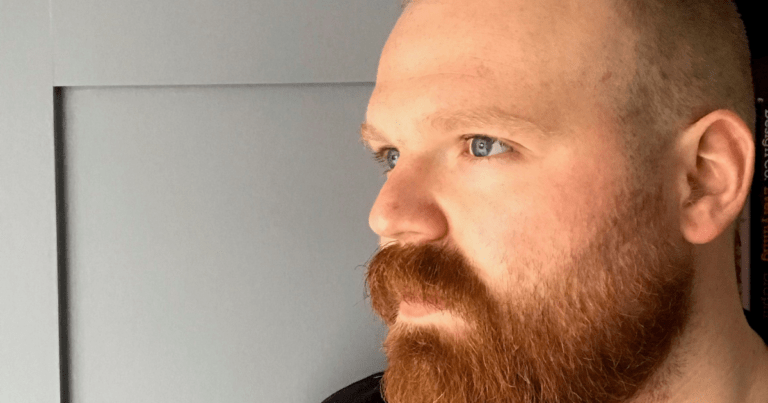 At its core, Shipley Creative comprises a diverse range of individuals from all walks of life. From part-time breadmakers and beer connoisseurs to artists and adventurers. As a team, they all have their own experiences, perspectives, and insights. A vital member of that team is Paul Lowcock, designer extraordinaire, the Hollywood middleman between vision and product. I recently sat down with Paul to discover what makes him tick, gets him into work, and some of his favourite projects.
For Paul, his path into the creative world started aged 8, after discovering a love for vinyl records and music. He spent his youth developing his understanding of music and the effect it can have on people. Redesigning album covers and creating new ones for imaginary bands; eventually, this evolved into his after-school job.
His passions continued to direct him on his path in life via college and university, where he continued his study of Graphic Design before achieving his Master's from The University of Huddersfield in 2017.
From there, Paul was snapped up by Shipley Creative after impressing with his portfolio, an accurate representation of his abilities and skill. Showcasing a broad background as a graphic designer. It included a range of design projects, including logos, branding materials, websites, and print materials, among other design work.
Straight in at the deep end, he got stuck in with a complete office redesign. Paul was ecstatic with this task as it was on his bucket list. For Shipley Creative, it meant they didn't have to hire an interior designer—everyone's a winner.
Since 2017, Paul has been involved in hundreds of projects at Shipley Creative. Rising through the ranks and bringing his style and flair to the forefront as Lead Designer. His mantra of "Treat every brand like they're Coca-Cola" rings in the ears of every junior, apprentice and work experience pupil that dares step into his design dojo.
I asked Paul for information on his favourite projects whilst working for Shipley Creative. It was like someone had turned on the conveyor belt in his mind as he began belt-feeding me a detailed history of what seemed like every piece of work he'd ever put a pen to. What not 20 seconds ago was a quiet and restrained man had suddenly come to life, ready to reel off his life's work. I sat stunned and amazed as he painted a picture with his words, reminiscing over how specific projects made him feel and how he envisioned they would work for a viewer. His passion was on show for everyone to see and hear. Paul clearly understands his role, but it's more than that; he genuinely loves it.
Unfortunately, I don't have the time to put Paul's library of work into words, but here are some that stood out for me.
What one word would you use to describe yourself?
"I'd probably say attentive. I think by absorbing as much as you can from your environment and the people around you, you can build a solid base to achieve whatever you wish to achieve—drawing from other people's past and present experiences and your own offers you a fast track to getting where you want to be."
What is your earliest memory?
"It's a really useless memory, but I remember being dragged out of bed between 4-5 am in winter to drop my Dad off at work. I was 3 or 4, and he worked at a carpet factory called Leigh spinners (in a huge old mill). It stands out because I had no idea it could be both morning and dark."
Who have been your strongest influences in life?
"There are a lot! I'm from a working-class family and am proud of that fact. I learned the importance of hard work from all the adults in my family, mum/dad, grandparents etc. My Grandad is my strongest influence. He was flawless. A milkman for 30 years. A gruelling job with little reward. Up at 2am every morning, out all day regardless of the weather. He was jogging around estates until he was 65. He never complained and always provided for his family. Good tips, though, by all accounts!"